Irish Business Free 4K Facebook Ads Assets
Take your ad game to the next level with these colourful 4k templates, exclusively from Aileach Digital.
Irish business 4k facebook ads starter pack
E-COMMERCE | ONLINE IRISH BUSINESS
While you may have witnessed (and been part of) a current trend away from Facebook in the past year, don't let this fool you, Facebook ads are still the most powerful weapon in the advertising arsenal of any successful Irish brand. More and more, Facebook (and Instagram) are becoming advertising platforms rather than social platforms. While this means that businesses have seen a downwards trend in their organic reach, there is still huge potential for your paid campaigns to make an impact.
Recent trends however have seen bigger brands move away from the traditional 'safe bets' when it comes to advertising. One of those trends is the move away from using a pristine white background to display your products. This technique, while tried and tested over many years, has become overused (mostly thanks to Amazon) and consumers want their brands to be braver and bolder when it comes to product display. Just Look at these recent examples from Nike and Starbucks: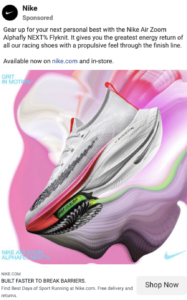 Although Nike is still pushing boring product photos on white background, this dynamic, exciting image attract much more attention in the Facebook feed full of photos and news articles.
If you're creating ads for an eCommerce brand, test showcasing your products on a colorful backdrop instead of a plain white background.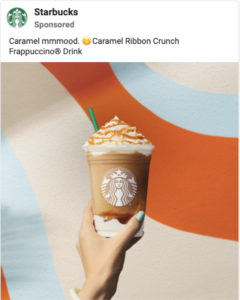 Just like the example above, Starbucks is not afraid to use backrounds bursting with colour, something that has been tried and tested by the coffe brand over the years,
Facebook and instagram love video
Static, colourful product images have and will always be a staple of any brands ad campaign; but, video is starting to play a leading role. Brands can no longer ignore video, and the power of 3D software means complex product visualisation is far more accessible to smaller business owners than it ever was. Check out this short promo created for Kimbia coffee in a matter of days, all done from the comfort of our offices.
If you want to find out more about how we can create affordable, promotional videos for your brand, download our 2022 3D Portfolio and Pricing guide or contact us directly
Let your imagination run wild
Facebook is a busy place and one of the best ways to stand out is use interesting, vibrant backgrounds to create the exact vibe you want in your ads. We've created an ecclectic selection of use cases for each of our backgrounds to give you some inspiration on how to use them, but of course, you can use them however you like!
fREE 4K fACEBOOK ADS sTARTER PACK
Our free starter pack includes:
8 original 4k background images expertly created by our 3D designer optimised for Facebook Ad Campaigns (available only on aileachdigital.com)
7 sample posts to show how our backgrounds can be used, including 3 Irish language templates for businesses wishing to engage with their Irish speaking audience
**BONUS** We've even included editable PDF templates for each post that you can redesign and reuse as you please
Are You Ready To Start? dOWNLOAD OUR FREE BUNDLE NOW
You might also be interested in these courses